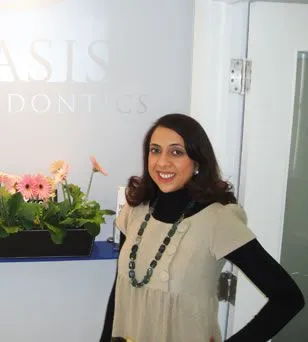 DR. SHARMA-FUNG PROVIDES PERSONALIZED TREATMENTS TO PATIENTS INCLUDING INVISALIGN AND MORE....
I find the profession of orthodontics to be endlessly fascinating, as it combines both scientific knowledge and artistic flair. It is a privilege for me to be an orthodontist and I am dedicated to making sure that my patients have a great result and experience when they come to the office. Ours is a very small but dedicated team, I treat every patient myself and as a result, we get to know our patients very well. My team and I are very friendly and keen to make sure every patient feels welcome and taken care of.
EDUCATION AND CONTINUING EDUCATION
Bachelor of Science – University of Toronto, Trinity College, Toronto, Ontario
Doctor of Dental Surgery (1992-1996) – University of Detroit-Mercy, Detroit, Michigan

Dean's Honour List
American Association of Oral Pathologists Award

General Practice Residency (1996-1997) – Boston Medical Centre, Boston, Massachusetts
Masters of Science (2002-2005) – Orthodontic Specialty training, King's College London, Guy's Hospital, London, United Kingdom

Research presented at the World Federation of Orthodontists, Paris, France

Membership in Orthodontics (2005) – Royal College of Surgeons of Edinburgh
Fellow of the Royal College of Dentists of Canada (2008)
Fellowship in Orthodontics (2013) – Royal College of Surgeons of Edinburgh
Royal College of Dentists of Canada: Orthodontics Examiner
Member of the General Dental Council of the United Kingdom (https://olr.gdc-uk.org/searchregister/SearchResults?Register=All&FirstNameSoundsLike=False&Surname=sharma&SurnameSoundsLike=False&IncludeErasedRegistrants=False&SortAscending=True&page=3)
Orthodontics requires lifelong learning, as there is continually emerging new research, technologies, and materials. I believe that as a clinician, I owe it to my patients to stay abreast of these developments in order ensure that I am providing them with the best clinical and scientifically sound treatment. As a certified specialist in both Canada and the United Kingdom, I attend conferences in North America and internationally several times per year (most recently the 8th International Orthodontic Congress) through the Royal College of Dental Surgeons of Ontario and the Toronto Orthodontic Study Club.
I also teach orthodontics at the undergraduate and post-graduate levels at the University of Toronto, Faculty of Dentistry, where I am an assistant professor
https://www.dentistry.utoronto.ca/faculty-profiles/khushee-sharma) I find teaching orthodontics to be extremely rewarding; my students challenge me intellectually and keep me on my toes!
OUTSIDE THE OFFICE
I am originally from Toronto, Ontario, though I have lived in several places, from Trinidad and Tobago to Winnipeg. I now live in Toronto, with my husband Nigel. We love exploring the city and sampling all the great food the city has to offer!!
Keyword Search: Braces, Braces Cost, Invisalign, Invisalign Cost, Female, Orthodontdist, Orthodontics, Markham, Unionville, Brooklin, Toronto, Ontario, University of Toronto, Royal College of Surgeons Edinburgh, Tooth Braces